Acupuncture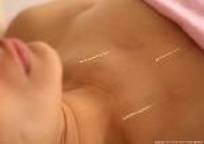 Acupuncture is one of the oldest and most commonly practiced medical procedures in the world. The first record of acupuncture can be found in a 4,700 year-old Chinese medical textbook. Today acupuncture is used by millions of patients in the United States to treat and prevent numerous medical conditions including:

ALLERGIES
ANXIETY
ARTHRITIC PAIN
AUTOIMMUNE DISORDERS
BLOATING
CHRONIC FATIGUE
CHRONIC PAIN
CONSTIPATION
CROHN'S DISEASE
DENTAL PAIN
DEPRESSION
HEADACHES and MIGRAINES
HYPERTENSION
IBS
INJURIES
INSOMNIA
MENOPAUSAL SYMPTOMS
PMS
PREGNANCY
POST-SURGICAL PAIN
RESPIRATORY DISORDERS
SMOKING CESSATION
STRESS REDUCTION
STROKE REHABILITATION
TMJ
ULCERATIVE COLITIS
WOMEN'S HEALTH


Acupuncture therapies in China and Japan have a history of being diverse in nature and in scope. The pluralistic nature of acupuncture medicine in Japan allows for a more functional approach to the complexities of our present western
medical issues.
Chinese and Japanese needles are used to restore an imbalance of energy, called Chi in the body. Acupressure or moxabustion may be viable options for patients who are apprehensive towards needling.
---
Additional Therapies
• Cupping: glass cups are suctioned onto the body and allowed to sit for about 10 minutes. The cupping technique stimulates the flow of blood and Chi to the affected area. Excellent for releasing tension in muscles, especially the back and for lung congestion.

• Moxabustion: mugwort (a species of chrysanthemum) is an herb that is placed on the body or the tip of a needle to apply heat. The moxabustion provides further stimulation to a point and is a significant treatment for cold areas; good for preventing disease and keeping healthy.

• Gwa Sha: a porcelain spoon is used with oil to rub the skin. It helps to release stubborn tense upper back and shoulder area muscles.

• Tuina Massage: bodywork to specific areas for relief of congestion or stagnation in meridians and in muscles.

• Pressballs: tiny gold plated balls that are used mostly on ear points to extend a treatment, patients can usually keep these on for a few days; excellent therapy for addiction disorders. • Auricular (ear) Acupuncture: tiny needles are placed on ear points to enhance treatment; acudetox to help with medication withdrawal.

---